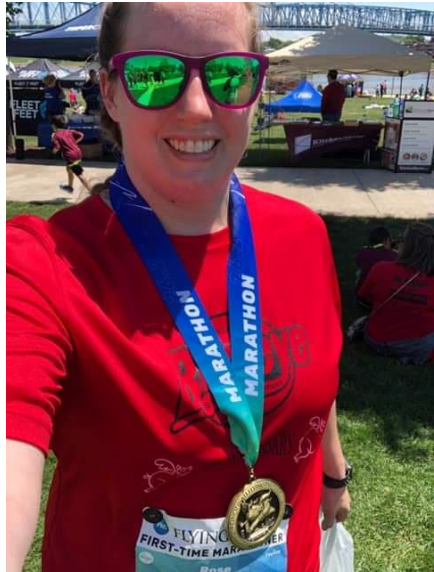 One of the reasons I founded Empower Physio and Wellness was to help improve the quality of life for my clients! That's why I'm excited to introduce the new "Client Spotlight." Every other month, I'll showcase a client I've worked with and how together, we've help them knock their goals out of the park. I hope this gives you a bit of inspiration—I know it keeps me inspired to keep working hard! Here's my Q+A with Gabby
What caused you to seek treatment?
I was experiencing outer knee pain every time I ran over four miles, not to mention my back would hurt when I slept in on the weekends. I was worn out, tired of running, and tired of the pain. I was nervous that I wouldn't be able to continue running and working out the way that I had been, so I sought help from Dr. Steph. In addition to treating my injuries, she's also helping me train for the Flying Pig Half Marathon in May and live a healthier lifestyle overall.
What did you learn about your injury?
Dr. Steph determined that I had an IT band problem, as well as issues with my core. I described my issues to her, and she told me what was wrong and what to do to fix it. We started out using simple breathing techniques, and have continued to build on that.
What was unique about your treatment?
When we started working together, Dr. Steph immediately understood where I was coming from, being a runner herself. Usually doctors will tell you to stop running, which doesn't fix the problem, it only avoids it.
Tell us, what's your favorite thing about Empower Physio & Wellness?Dr. Steph is very encouraging and helps me improve each week and progress with my exercises. She's always willing to work around my schedule and you can tell she truly cares about her clients. She does whatever she can to help us live a healthier lifestyle and workout with no pain.
How are you progressing?
Since October, I have no pain in my knee or in my back. Running four or more miles is not a problem anymore, and I feel that running the half marathon will be pain-free. The movements are difficult, but I am continually getting better each time I do them.
What are you looking forward to achieving in the future?
I'm excited to start running greater distances again and look forward to my training. We're working hard to improve my times for the half marathon and I'm confident I'll be able to PR.
Would you recommend Empower Physio & Wellness to your friends?
Definitely! Dr. Steph understood my goals and knows what it will take to make that happen. I feel confident that physical therapy with her has improved my mood, my movement and my training. It's a joy to work with her and see where we are progressing.

Inspired by Gabby's story? Let's chat about how I can help you achieve your goals!